Hebron Sings
Hebron has been blessed in that there are many talented Singers and musicians in the congregation. On the first Lords day of each month th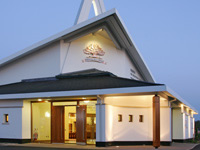 e church hosts its family night service and on these nights the church has visiting singers.
Listed below are some items of praise which have been taken from the recording of these services Please download some sample tracks from the album below. Right click on the song title and select 'Save Target As'... The files are MP3's which can be played back on most Computers, burned to discs and played back in Modern CD players capable of playing MP3's, or played in DVD players. Alternately you could convert the MP3 so that they can be played back in regular CD format
If you cannot play these items directly from your browser you will have to install the quick player software. Follow the link..

.
---