Out of Christ without a Saviour
I was born into a Roman Catholic home, where I thank my parents whom God used as instruments, to provide me love and all the material blessings I needed, but I did not learn of my need of salvation. As I grew older, it was expected that you went to Mass with your parents and celebrated all the rituals of the Catholic Church. I became increasingly skeptical about some of the fundamental tenets of the Roman catholic faith. In hindsight, I believe the Holy Spirit was working in my life and convicting me of my sin.
We were taught the bread and wine is changed into the body and blood of Christ in the Mass; it was a mystery to be believed, but I could not accept that this was happening.
It was not until I left home to do my nurse training in the Royal Victoria Hospital, Belfast in September 1969, that I was freed from having to attend church. As a young student I was greatly influenced by the testimony of fellow Christian nurses. Unfortunately I felt I could not attend Christian services as I feared what others would think of me.
 It was a lonely time, and though I did not want to continue going through the church rituals, I went into an empty chapel on the Falls Road to talk to God. I remember my mum saying that the local parish priest wanted me to sign a form to say I was contributing to the church – so that tax could be claimed. That was another turning point. I wondered how this man could give absolution or take away my sins
.
Even though I had feared the rejection of man, I thank God He continued to work in my life through the witness of two patients, who on their death beds had had such peace in the midst of horrific suffering. They did not need 'the last rites' before dying, as the Catholic Church teaches. And even at that, you still need Masses said for you to get you into heaven. It just did not add up.
I felt that I could talk to God on my own, so for the next 7-8 years I did not attend any church. I started District Nursing in the Antrim area and again God continued to speak to me through a godly little lady whom I attended. She gave me tracts. A receptionist in the Health Centre, sneered, "Did she give you a wee tract today?" I remember taking them home and thinking, "There's nothing much wrong with them". I believe the Holy Spirit was starting to take the scales from my eyes. I was beginning to understand that there is only one mediator between God and man, the man Christ Jesus.
To cut a long story short I met my future husband, Hugh, and we got married. The first year was difficult as we were building our house. Hugh went to the site after school and worked till dark, and I was doing my Health Visiting Course. I could not understand how Hugh never appeared stressed or angry, he seemed so calm or at peace. He read voraciously at theological books, so I thought one evening, "Whatever it is, maybe I'll get this peace if I start reading one of theses books". When he came home and saw me at the book he asked, "Are you OK?" And restraining myself from crying I said, "Whatever it is that gives you such peace in your life I wish you would share it with me". He said "I just surrender my life to God and He takes control of all my affairs" My initial thought was "Right, but I need to do something." I grew up believing that you earn your way to heaven by trying to be good, and when you do sin you go to the priest for forgiveness; and I had given up on them as I knew they were sinners like me.
Hugh explained that Christ died, in my place, to take the punishment for my sins; I only had to trust in Him for forgiveness. I still thought that seems too easy and wondered how I could learn more so he suggested I read the Gospel of John.
  I thought "Why one of the Gospels?" In my senior years at a Convent Grammar School we had to learn Luke's Gospel, but because it was an academic exercise like learning poetry, I hated learning it. So when we were asked to recite it all together I recited a rote-prayer in the hope that my teacher would not notice, but sometimes it was obvious that the dubbing was 'out of sync', so I was asked to recite it on my own. This left me red-faced, so sadly I did not grow to understand and cherish God's precious word. I know now that what I was doing was blasphemy and a lie.
Thankfully I was soon to learn that the word "Gospel" literally means "Good News." No human words can match the impact of God's own words. The Bible tells us that Scripture is like a "two edged sword" that cuts through our emotional barriers and reveals the heart of God.  
I would appeal to you if you do not regularly read the Bible to start now. When you read God's Word you are touched right to your core with an impact that can never be matched any other way and thankfully it was true for me.
I thought "Why the gospel of John?"
The Gospel of John is one of four books of the Bible that talk about the life of Jesus. John's gospel speaks clearly about Jesus' love and forgiveness and the promise of eternal life for those who believe on the Lord Jesus, and on His Father, who sent Him.  John wrote his Gospel with a specific purpose in mind, which he describes near the end of his book.  "But these are written, that ye might believe that Jesus is the Christ, the Son of God; and that believing ye might have life through his name" (John 20:31).
I soon learned that there is No other way to God except through Jesus Christ.  In John's Gospel chapter 14:6 it tells us "Jesus saith unto him (Thomas), I am the way, the truth, and the life: no man cometh unto the Father, but by me." 
You do not become a born-again Christian (that is you are saved from the punishment which your sins rightfully deserve), because you are born into a Christian family, attend church, do good works or receive the sacraments/ordinances. You need to trust in the finished work of Jesus on the cross. The Lord Jesus' dying words in John 19:30 are "It is finished". He has redeemed us through the shedding of His precious blood.
What arrogance of us wretched sinners to think that we can add anything to the salvation of our souls?
The Bible says in Ephesians 2:8-9: "For by grace are ye saved through faith; and that not of yourselves: it is the gift of God: Not of works, lest any man should boast."
Grace is the free gift of God, we do not earn it, nor do we deserve it, for it says in the Bible in Isaiah 64:6. "But we are all as an unclean thing, and all our righteousnesses are as filthy rags; and we all do fade as a leaf; and our iniquities, like the wind, have taken us away".
He has redeemed us through the shedding of His precious blood.
When we moved to Ballymoney over 30 years ago I thank God again for the Christian witness and support of work colleagues Olive and Yvonne.
Saved Through Christ
In God's providence He led me to Ballymoney Baptist Church, for whom I am thankful for the sound foundational teaching I received in my early Christian life. I did not have a Damascus Road experience, but God graciously saved me and I underwent believer's Baptism one cold day in 1983, in an outdoor heated tub. God used me as a Sabbath school teacher and later a leader in the Good news club. Life was not without its trials but it pales into insignificance compared with the martyrdom of Christians throughout the world. I felt stressed at work, and was advised by my boss that I would not be granted part-time work. I felt bullied; and felt the reason was that I had become a Christian. I was off work for over a year and believed that I would never work again. When I was too depressed to read, or at times pray, God sustained me through the encouragement of George Beverly Shea's hymn singing. I learned that "the Lord will lift me up when I feel down" and I held onto one of the promises of Scripture that "He will never leave you nor forsake me".  I read the Psalms through tears over and over, and eventually I managed to read the Bible fully. My prayer that the thorn (my boss) would be removed, and that I would be granted part-time work, was answered. To God alone I can be so thankful and to Him I give the honor and glory.
Can I say to anyone reading my testimony that if you are worried about what others may think or do to you should you commit your life to Christ, remember Paul's words in Heb 13: 6 "….  We may boldly say, The Lord is my helper, and I will not fear what man shall do unto me".
Also Psalm 27:1 "The LORD is my light and my salvation; whom shall I fear? The LORD is the strength of my life; of whom shall I be afraid?"
Again Deut 31:6 "Be strong and of a good courage, fear not, nor be afraid of them: for the LORD thy God, he it is that doth go with thee; he will not fail thee, nor forsake thee."
Continuing With Christ
I have been coming to Hebron Free Presbyterian Church since 2006. I have benefited from the spiritual leadership of Pastor David Park and enjoy the Christian fellowship of the flock. God has blessed me with good health and a faithful husband; and three children, who have professed faith in Jesus Christ as their personal Saviour. I took early retirement from Health Visiting in 2007. I am now a Nanna to Elijah and Moses. I can truly thank God that he has blessed me abundantly.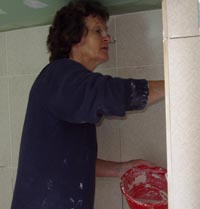 I completed the Christian Workers Training Academy Course in 2008 and shortly afterwards I had the privilege of going out to Romania to do practical work in the Utvin Church.
 I completed the Certificate in Christian Counselling with Christian Guidelines, at the Union Theological College, Belfast. I feel the LORD is guiding me to do Christian support work, as I still have the desire to help others and to point them to the only  true source of healing, My LORD and Saviour Jesus Christ.
 I close with Psalm 28:7 "The LORD is my strength and my shield; my heart trusted in him, and I am helped: therefore my heart greatly rejoiceth; and with my song will I praise him."