An ever increasing number of people nowadays are actively interested in the sport of mountain climbing . It is an exciting hobby, which mixes the joy of being outdoors with the thrill of adventure and indeed danger. However, if the climber is to be successful and safe, there are several unwritten rules which should be obeyed.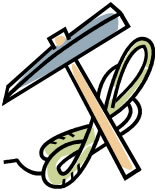 Firstly, the true leader never falls. He will have studied the route, so he knows every step of the way every crack and overhang and every possible danger. A good leader knows his own ability-what he should and should not do. He knows what equipment is necessary and is prepared for any situation that may arise . He never expects his followers to do anything that he himself is not prepared to do and final decisions are his, because responsibility for the safety of those who follow rests on him . The true leader is even prepared to sacrifice his own life to save those who follow him.
Secondly, the climbers must follow the leader, watching where he puts his hands and feet. Any deviation from the route puts the individual on loose, slippery and untried dangerous footing .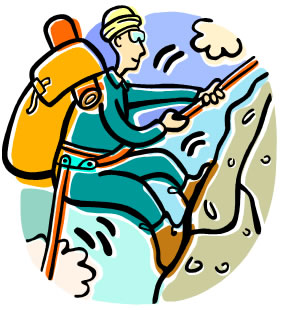 Thirdly, those who follow the leader, must be linked to him by a rope. This is a means of security and indeed, at times the only means of communication. The spoken word is often inaudible in the wind; the rope then transmits messages of the others' movements by tugs and vibrations. Should a follower encounter difficulty or slip, he needs only to yell "Tension" and the leader quickly makes the proper and saving manoeuvre.
How like this is to life, where the only true leader is Jesus Christ. All around us we see people trying to follow what to them appears to be an easier route. We can sense their pain and fear as they discover that the rope that they grasp is only attached to thin air!
Though the way may often be rough, slippery and not without pain, tied to Him through prayer, we need only cry "Save me" and the everlasting arms are there, helping, holding and uplifting . Prayer is our link to Him as we climb the mountain of life. We must be diligent so that it doesn't become tangled on the rocks of disuse but be kept vtbrant and strong as we follow His example, "because Christ also suffered for us, leaving us an example, that we should follow his steps." (I Peter 2 : 21).
How well the hymn writer summed it up when he wrote:
O Jesus, thou has promised to all who follow thee,
that where thou art in glory there shall thy servant be;
And, Jesus, I have promised to serve thee to the end;
O give me grace to follow, my Master and my Friend.
O let me see thy footmarks, and in them plant mine own;
My hope to follow duly is in thy strength alone;
O guide me, call me, draw me, uphold me to the end;
And then in heaven receive me, my Saviour and my Friend. "