Norman Hanna

Age

60

Married

Grace

Children

Cathy, Philip, John Mark, Andrew, Ruth-Ann, Samuel, Rebecca

Occupation

Farmer

Years at Hebron

30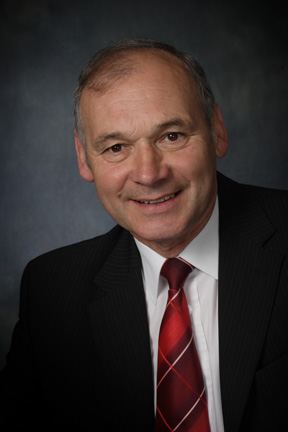 2 Timothy 3v15 is a very apt text to introduce my testimony "that from a child thou hast known the Holy Scriptures"

I was born on 15th February 1950 into a Presbyterian Home, a good home with loving parents and from my earliest days was sent to Church and Sabbath School. At a very early age in my life something very significant happened, my mother became a born again Christian and from that moment on she was not only concerned about our physical welfare but also our spiritual well being. My earliest recollection is of her praying with us and for us that we also might be saved; my privilege was like young Timothy in th verse 15 which literally reads "He had whispered into his ear the Holy Scriptures". The instruction and influence of those things would never leave me, therefore how important it is "to train up a child in the way that he is to go"

Nevertheless with the passing of time and entering into my teenage years I became more interested in and involved in the pleasures and pursuits of sin, that are for a season. But in the mercy and providence of God two young preachers came into my district to conduct a gospel campaign.

My brother, my uncle and I began to attend those meetings nightly. At that time we had two interests and two loves in our lives that of motor cycle road racing and country and western music. We were in the process of forming a dance band to play around the pubs and dance halls, so upon reflection I believe that God providentially intervened at a very crucial time in our lives. I must say that from the outset I really enjoyed the spirit of those meetings and God began to speak to my heart.
Each night I was reminded of those scriptural solemn truths of the: -
            Romans 3:23 "For all have sinned and come short of the glory of God"
Romans 6:23 "The wages of sin is death"
Romans 5:8 " God commendeth His love towards us in that while we were yet sinners Christ died for us."


Night by night we were brought to Calvary to see in Christ alone our substitute and saviour.
Acts 17:30 God "now commendeth all men everywhere to repent"
Luke 13: 3 "Except ye repent ye shall …. Perish."
It was old fashioned preaching of 'Bend or Burn, Sin or Saviour, Salvation or Damnation' and God's fear fell upon me and I trembled to die. I heard also of Faith and Salvation through trusting Christ alone. John 11:12 "as many as received Him to them gave he power to become the sons of God" Romans 10:13 "For whosoever shall call upon the name of the Lord shall be saved."
On the last night of that mission I surrendered to the claims of Christ and exercised simple faith in the promises and person of Jesus Christ. I simply prayed "God be merciful to me a sinner", "Lord save me lest I perish". That very night I had the assurance of forgiveness of sin and peace with God. "For whosoever shall call upon the name of the Lord shall be saved" and "if we confess our sins he is faithful and just to forgive us our sins and to cleanse us from all unrighteousness" 1John 1 v 9. "And this is the record that God hath given to us eternal life, and this life is in his Son. He that hath the Son hath life: and he that hath not the Son of God hath not Life." 1John 5:11 &12.
That great transaction took place on 5th February 1967 at approximately 9:30pm and that Sunday evening I passed from death unto life (John 5:24), I was justified freely by His grace (Romans 8:1) and I received forgiveness and cleansing from sin (1 John 1 8:9). My fair weather friends gave me 6 months, but God's salvation is a reality, the preaching is over, the crowds are gone and now 43 years later I have proved God's saving and keeping power. I end my testimony with the words of Acts 26:22) "Having therefore obtained help of God I continue unto this day witnessing both to small and great" and I look forward to that day when faith will give place to sight and I go to be with "Christ which is far better" Col 1:27